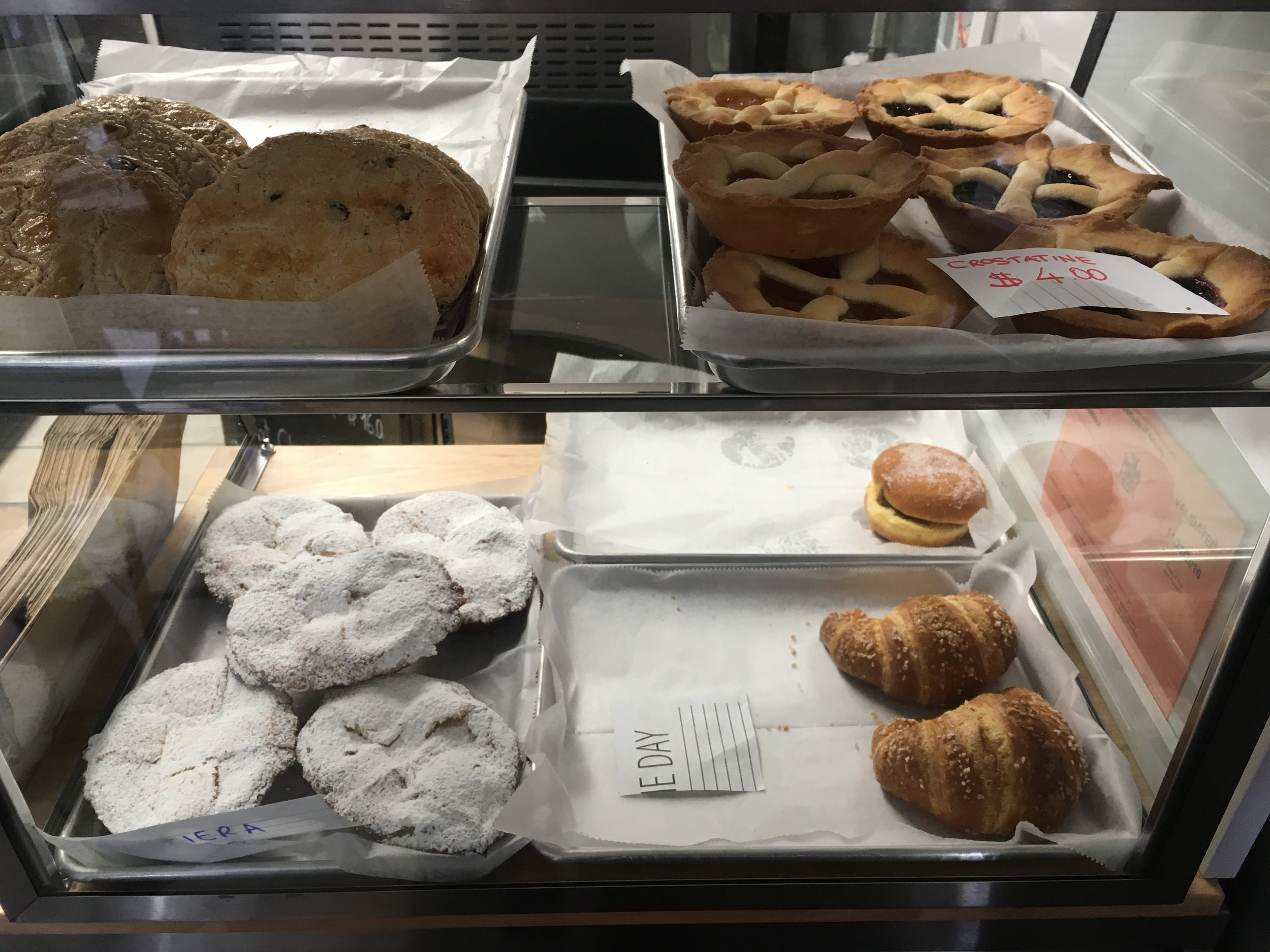 This fall I did a survey of Italian Carroll Gardens, but focused exclusively on remnants of the neighborhood's Italian past. Now I'm adding an Italian newcomer to the list. Lillo Cucina Italiana opened three months ago, and I felt such a burst of happiness and relief. I'd been passing the small shuttered space that simply said "COFFEE" on Henry Street for a year, en route to my mother's nursing home just two blocks down. It would have been nice to have a reliable spot to get decent coffee, always that need for the comfort of hot milky drinks, to brace myself for my bleak visits to "the home."
So I stopped in to scope it out, and not only does the eponymous Lillo serve genuine Italian coffee—and by the sound of the owner's conversation with customers, he tweaks each order to their exacting specs—but the restaurant is also an authentic Italian cucina. I popped in this week to have a panino, one of the only items just under my $10.00 snack limit, many of which are named after Fellini films—"Amarcord," "Blow Up," a homage to the chef/owner's home city of Rome.
Lillo is an unkempt bearded bear of a man who speaks English haltingly but manages to convey his absolute pride in his cooking and love of Italia at the same time that he exudes utter nonchalance. My paisa panino ($9.95) with tuna, EVOO and artichoke hearts was the kind of perfect sandwich to which I aspire in my own kitchen: top grade ingredients with no flourishes (I'm thinking of the overweening efforts to impress at Venetian Tramezzini, the sandwiches tucked into paper cones with flowers nestled alongside).
My only complaint was that the bread—clearly high quality ciabatta—was toasted so that each side was as hard as a crostini. I tried to express this to Lillo, but he thought I was complimenting him and smiled broadly at me. "Too hard," I said again, pointing to the bread. He shrugged, "Eh." Next time I will order my panino untoasted. For now I split it apart and pretended I was, indeed, eating two large crostini, with top grade canned Italian tuna, the ample, tasty olive oil, sprinkling of salt and pepper and the silky, thin sliced artichoke hearts, creamy white and layered like the ruff of an antique shirt collar. By the way, my sister also noted the chef's indifference. She also stopped in coming from "the home," and ordered a soup—brocolli and pasta—which took over a half hour to get to her ("C'mon, it's soup!" she told me, and for her it was not a standout). Yet, she noted that the pastas other diners were eating—and being served, strangely, before her—looked tasty.
Psst! Still, I think you should hoof it to Lillo Cucina before the word gets out and there is a line down the block for a space at one of the six small tables. On Yelp, as of today, there are ten five star reviews from people who have sampled Lillo's homemade pasta, such as porchini fettucine, his polpette, a grilled whole branzino (notably not on the menu), and even his baked "dolce"—" Try the bombolini alla Nutella, I legit died and went to heaven eating it!" They all extolled the virtue of the chef making everything himself, with care, from fresh ingredients, many sourced from Italy. It seems this restaurant has the exact opposite approach of the two Italian fast food newcomers reviewed by Pete Wells in this week's New York Times; they offer classic pastas or other Italian basics for $7.00 - $11.00. Pasta dishes at this restaurant range from $11.00 - $14.00. There are willing takers for both approaches, and in fact, I am one. I'll definitely be back to Lillo Cucina—and not just for a snack attack!
Lillo Cucina Italiana
331 Henry Street (btw Atlantic & Pacific Aves.)
347-763-0899