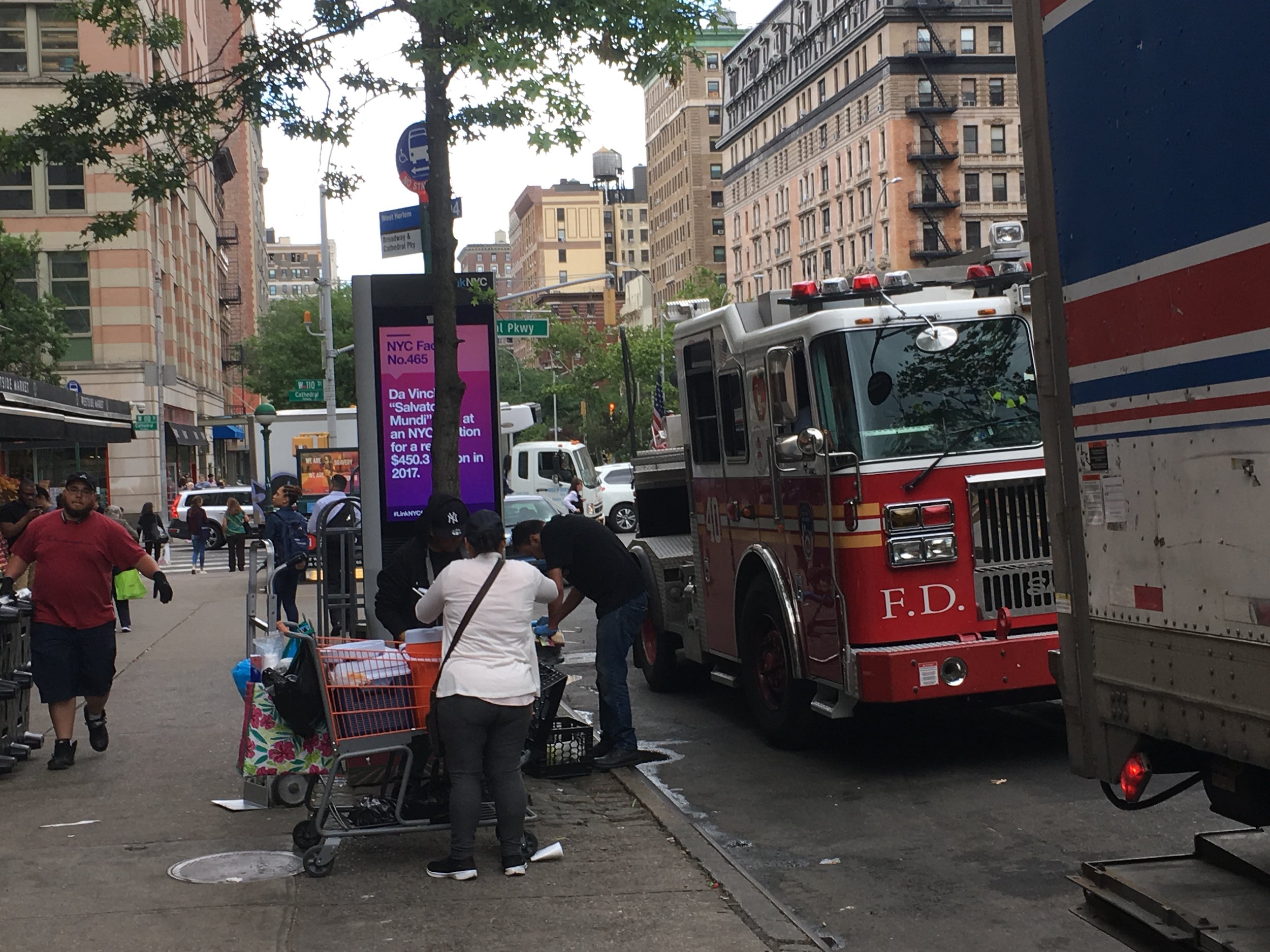 In NYC small pockets of culinary entrepreneurism flourish wherever there are workers who miss the foods of their native lands—like the cheap and cheerful steam trays of Pakistani Food that serve the late night taxi drivers in Little India, or the tamale ladies who stand outside subway stations with their big coolers of tamales and vats of agua de Jamaica, sweet and tart Hibiscus tea..
When I used to drop my children off at PS 75 on 96th and West End Avenue, I became well acquainted with the tamale lady who hawked her wares near the subway entrance. She stood with her grocery cart and coolers, which she opened to the fragrant musky smell of masa, the cornmeal surrounding slivers of cerdo (pork), pollo (chicken) or queso (cheese). She wrapped the tamales in foil and put them in a black plastic bag with plastic utensils, and I'd often be unable to wait until I got home, peeling back the corn husk as I sat walked back up Broadway.
My children have long since left PS 75, so I don't know if a tamale lady serves the school's large Mexican population, and we recently lost Las Palomas, the wonderful Mexican grocery store on 100th that sold their homemade tamales on weekends only. Yet, low and behold, tamales have surfaced two blocks from my apartment, to feed the mainly Mexican workers who pile the fruit or flatten produce boxes outside West Side Market. When I spotted the trademark grocery cart and large orange coolers, I said a Hail Mary, even though I'm not Catholic, and wondered if it was a temporary "Virgin of Guadalupe"-type mirage as when, one winter, a taco truck showed up for a few nights outside our building, garish and lit up against the winter snow, never to be seen again.
I have good news. Our lady of the tamales is in front of West Side Market (Broadway btw 110th and 111th St.s) on weekdays from 12:30 (ish) to 1:15 (ish) every weekday, and on Saturdays she is there from 11:00 AM to 12:30. Small windows of time, true, but long enough to grab lunch. Not only does she serve hot chicken tamales ($2.00/ea. for all) with either salsa verde or salsa rojo (the former packs more heat and has a tomatillo base), but she also serves cheese tamales filled with queso blanco and green and red spicy peppers. I like these better; they are moist compared to the chicken tamales, which are on the dry side but still authentic and tasty. What's more, each day she offers a rotating menu of Mexican lunches served with arroz amarillo and frijoles negro. One day "rabo"—oxtail stew in what looked like a tomatillo sauce, another giant turkey drumsticks ("pavo") in molé and another day I looked in the cooler to see pork bones bobbing among a sea of red peppers ($10.00/plate).
How I admire the Mexican immigrants who risk their lives—and separation of their families—to come here, to work hard and build new lives, to hand out fragrant tamales that link Aztec tradition to our hectic days. "Bienvenidos," I say, "Bienvenidos!"
In front of West Side Market
Broadway btw W. 110th and W. 111th St.s
Mon –Friday 12:30 – 1:15 (ish)/Saturday 11:00 - 12:30 (ish)
Get there early; tamales sell out quickly!