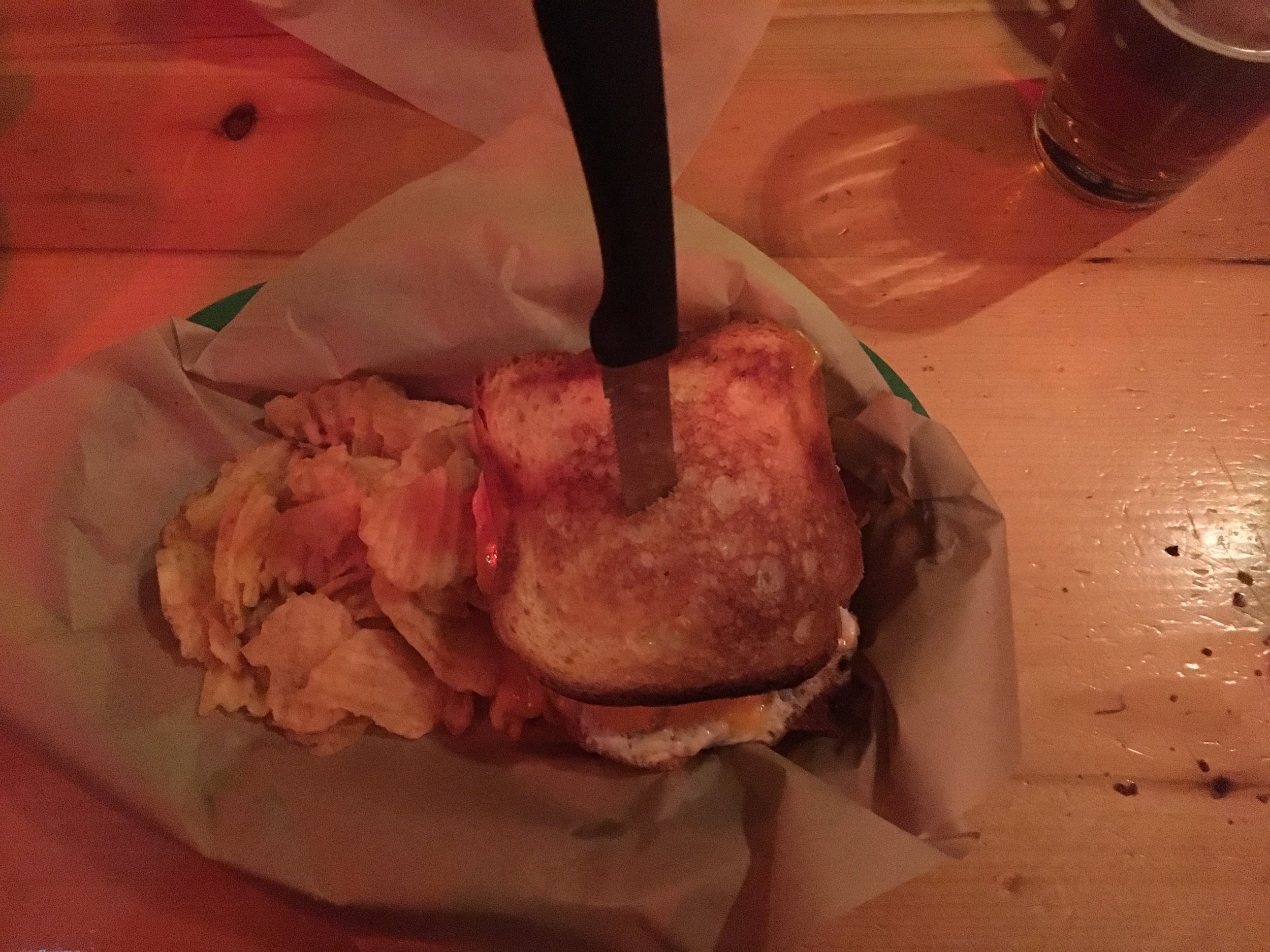 Step into Earl's Beer and Cheese off of Park Avenue and you enter a restaurant kitted out like a Catskills hunting lodge. A stuffed buck presides over the expanded back dining room, and vintage illuminated rural scenes are set into the wall. There is a giant hunting scene tapestry and the bathroom is papered with vintage ads for guns and hunting and fishing accoutrements –-something that unsettled me even before the Las Vegas mass shooting.
Also unsettling, in a different, much better way, is the presence of ground up potato chips in my gorgonzola and ginger fig preserve sandwich ($8.00). But Earl's Beer and Cheese has a canny knack for making the improbable ingredient the crowning touch. The crunchy chips added a needed salty fillip to the compact sweet, oozing brioche roll sandwich I handed to the Chef to try. His immediate comment was "F*ck that's delicious," a nod to Action Bronson, about more of which later….I said the same when I bit into the Chef's misleadingly named "New York State Cheddar Grilled Cheese." Sure there was New York state cheddar, but there was also pork belly, a fried egg and, let's hear it for the perfect unsettling touch—kimchi ($8.00). Can you beat these prices—almost everything is $10 and under, on Park Avenue, no less!
To some the Chef's combo might seem purely gross, but, frankly, it's genius. But most genius of all is the bread pudding ($8.00). As one Yelper put it: "Dining here without trying their bread pudding would be an abysmal tragedy of meteoric proportions." And to quote the menu, "It's stupid good," this steaming hot combo of fried Pullman's bread chunks soaked in maple syrup, the sweetness balanced by tart slivers of raw Granny Smith Apples, all topped with fresh whipped cream. And, since this is Earl's BEER and Cheese, the restaurant features a small, well-chosen and varied collection. You never know what will be on tap, but you know you'll find something you like.
Marshmallows on Turkey, Hash Browns in Mac & Cheese
Earls was the end destination for one of the Chef's and my "cheap date" nights. First we had walked across the north end of Central Park and through the always lovely Central Park Conservatory Garden to go to one of our favorite bookstores, Kitchen Arts and Letters. We had a three-year-old credit, which the store, thankfully still honored. While there I noticed that Action Bronson has a cookbook out, and for a half a minute I pondered getting it for my son Angus's birthday, which is today, but Angus stubbornly refuses to follow recipes—even recipes from someone who stubbornly refuses to follow recipes!
A half Albanian Muslim/half Jewish rapper, Bronson used to be a New York City chef and is now going back to those roots with his Viceland cooking show phenomenon, F*ck That's Delicious. It was Angus who introduced me to the pop culture icon, sending links to the shows, in which Action Bronson—bearded, obese, shlubby, tattooed but strangely gentle and personable—makes outlandish sounding über-fattening dishes, often in the company of culinary superstars like Mario Batali or Chef Michael Voltaggio. Here's one from his older youtube series, At Home With, in which he layered all his Thanksgiving leftovers between two halves of a corn muffin. "My mom got up in the middle of the night and ate the tops off some of the muffins," he says, endearingly and when he roasted marshmallows over his electric stove, he called it an "old Jewish lady trick." He actually slid the toasted marshmallows on top of the sandwich, which already contained corned beef, reheated turkey and gravy, and a slab of cold mac and cheese. "You want this," he tells his viewers confidently.
So I didn't get Angus the Action Bronson book for his birthday, but over the weekend he texted that he and some friends were having a potluck Canadian Thanksgiving. He was going to make Mac and cheese, and asked what kind of cheese to use. I referred him to my sister, the Mac and Cheese expert, and she promptly sent him a simple Julia Moskin recipe from the New York Times. The next day, Carol sent me this text along with the picture Angus sent (above):
Angus is an enthusiastic chef who is definitely in the mold of Action Bronson. Not only does he not consult recipes, but when he first started cooking, he also refused any advice from the Chef ("less is more," "No you don't need paprika in that," "…or cinnamon"). Yet, as he gets older, he has becoming more willing to learn and his methods are becoming more refined. He has a knack for grilling chicken and for making perfect Bronsonesque sandwiches ("I used the hash browns for a sandwich the other day, folded in half with scrambled eggs in the middle"!). As his loving aunt said, when I bemoaned the fact that Angus had totally ignored the Moskin recipe: "Well, I think it's better to be unafraid of improvising and not be a slave to recipes (as long as you have some good grounding in basic principles." Happy birthday, then, to my son, who has the courage to improvise in cooking and in life and has sound basic principles, in the most important ways. And one note: well before Earl's Beer and Cheese opened, my trendsetting son was putting potato chips inside his sandwiches!