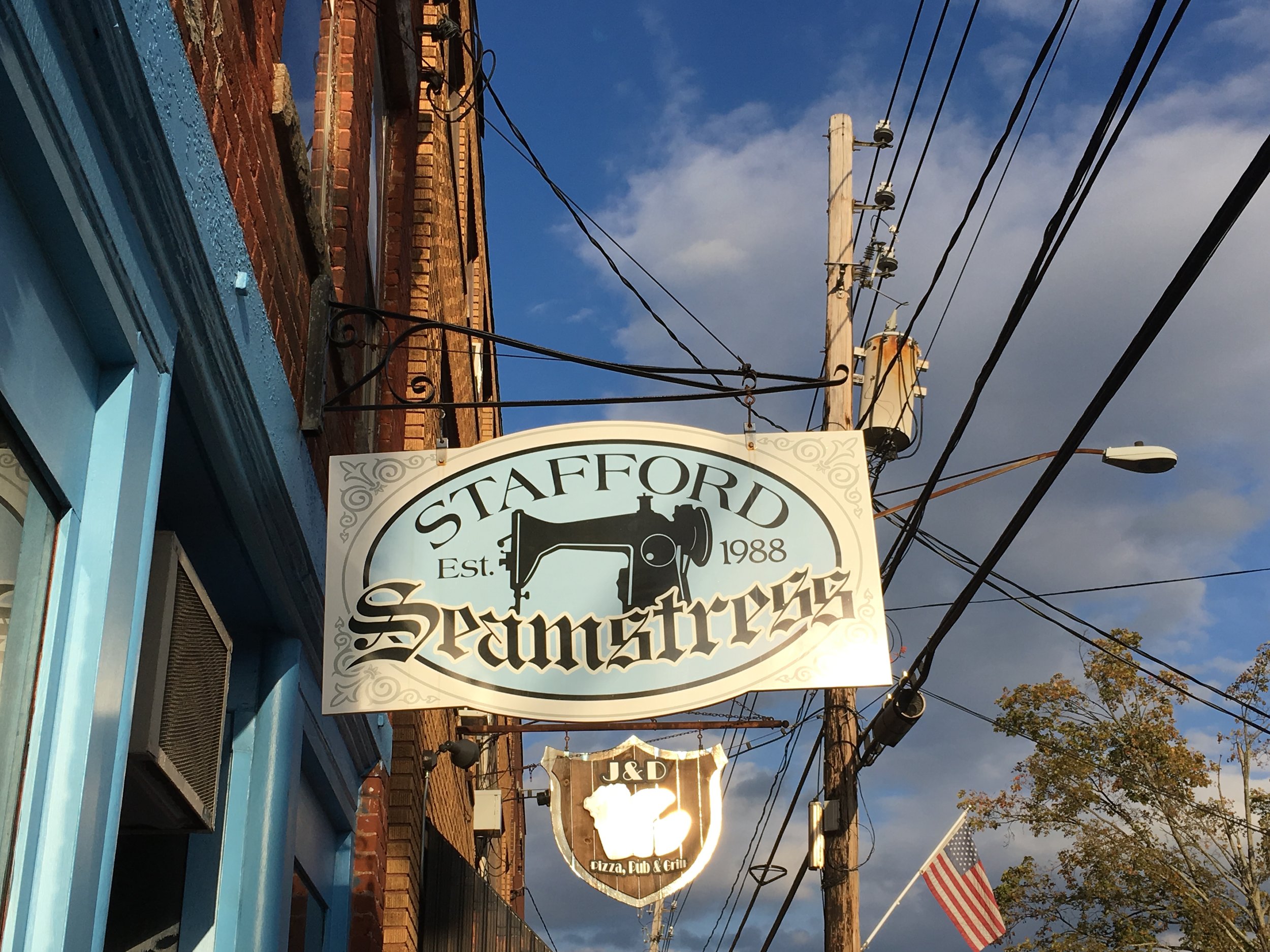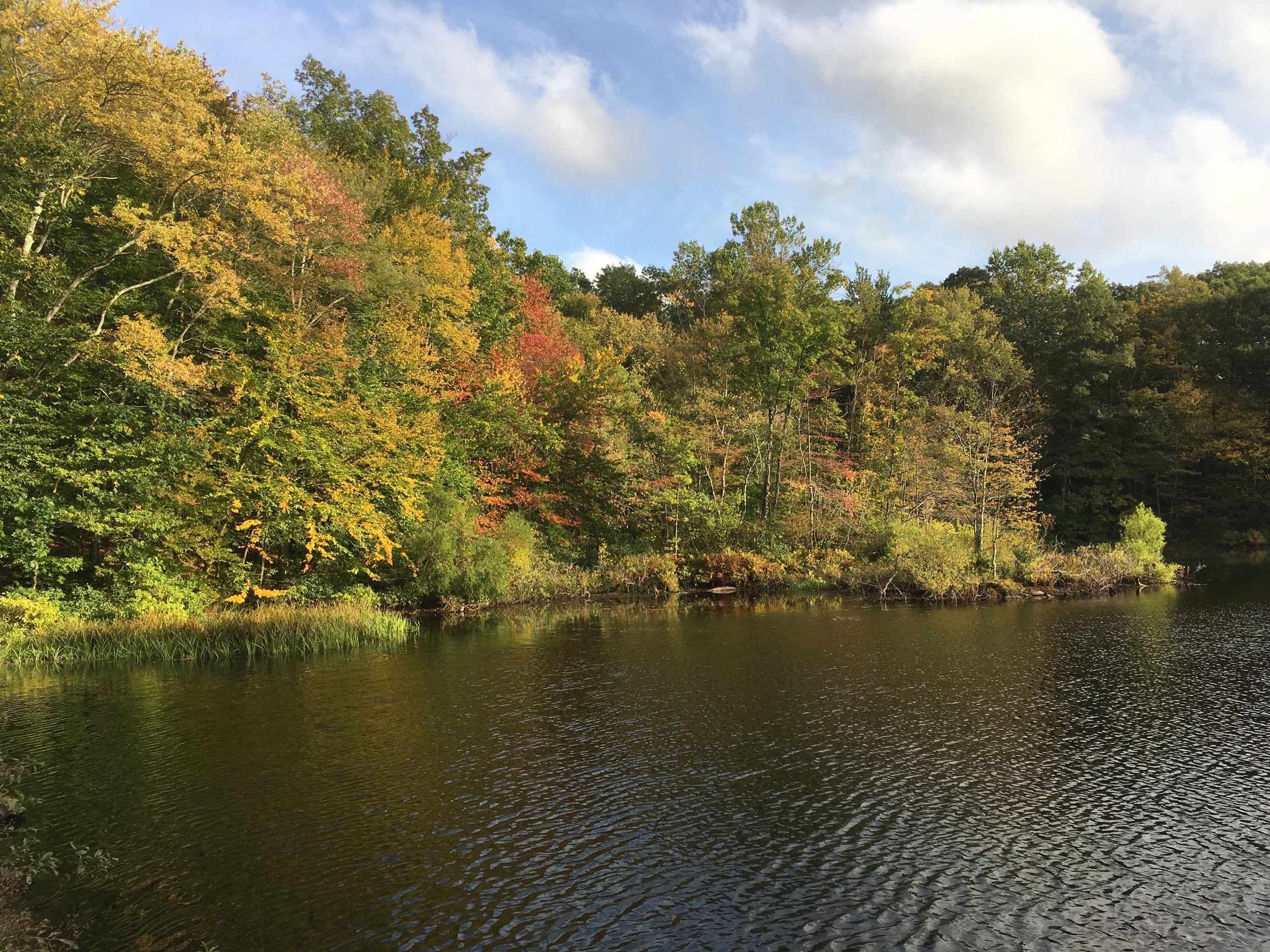 Every couple has their bonding cement, and if it's not clear by now, a shared appreciation of—and insistence on—good food is ours. After 28 years together for instance, I know that the Chef and I are able to find the most exceptional food in even the most discouraging or lackluster surroundings, because it matters to us. This snack journey is a testimony to that. I had accompanied the chef on a work junket to UConn in Storrs, Connecticut with a stop in Hartford,on the way in and Litchfield on the way out. All three places presented dining challenges, but here are some worthy finds.
Hartford, CT
The Kitchen at Billings Forge How novel to have a smart, no nonsense restaurant/cafe in the middle of the Hartford Public Library! The Kitchen offers packed honest sandwiches and soups, and the half sandwich ($8.50/half sandwich + soup) is a deal. My half sandwich of pit ham, provolone, lettuce, and aioli was a goosed up version of my Everyday Sandwich. I had it with matzoh ball soup any Jewish mother would love for its light fluffy matzoh ball and plentiful chicken and vegetables. The Chef had a tasty British style (bright yellow) curried chicken salad sandwich on bread studded with cranberries.
Stafford Springs, CT
Depressed by the blocky buildings and parking lots of Hartford, we cut our visit short to explore Stafford Springs, a former spa and textile mill town. Now the shells of attractive red brick mill buildings house a mish-mosh of knick-knack shops, local services and artists' studios, and the spring waters, known to cure "gout and hysterics" and to make one "lively," no longer flow from public fountains. Yet, one can still get "lively" with other spirits…
Stafford Cidery A sign advertised an upcoming apple festival, so it made sense to have two flights of cider at the Stafford Cidery where burly Dan Tomlin and his wife Jodi make Crazy Cock Cider. We happened to go on very the day that Dan had officially retired from his corporate job to put all his effort into the cidery, a cheery space decorated with rooster kitsch. In our two flights of cider ($8/for 4 tumblers) the best were the ones that sounded most fussy and unlikely, the Cock-a-lot, flavoured with cocoa nibs and the limited edition Pie, with notes of vanilla and cinnamon.
Storrs, CT
Founded in 1881, UConn Storrs, home of the Huskies, is the main UConn campus, where old buildings and new are dispersed among a vast campus, and the animal sciences department features sleek barns located on the aptly named Horse Barn Hill Road. On my walk up that hill I not only admired the sleek, muscled horses galloping in the fields but also the packs of young shirtless, muscled "Husky" boys galloping for cross-country practice. However, there is truly no "there" there in Storrs, in that there is no college town at all, except one that was put in fairly recently and which is depressingly suburban: 7-11, Subway, Barnes and Noble, Price Chopper.
While the Chef was giving his talk on drought, I contended with a café drought as I sought somewhere to drink coffee and park my laptop. The Dog Lane Café is more restaurant than cafe, with no wifi or outlets. From there I was directed to take my coffee and work above the Price Chopper, one of the most unusual portable offices I've had, but which came with comfy seating, free wifi and lots of outlets.
Dinnertime was the real test. Our Tolland, CT B&B host was of the terse New England mode. When we asked what he'd recommend, he tossed the question back to us, asking what mattered most, nearness or quality. When we made clear it was the latter and asked for a recommendation, he was at a loss, definitely an eat to live man! However, he thoughtfully provided a binder of restaurant menus, which is where we found our first choice:
Camilles Wood Fired Pizza There is the town go-to pizzeria, Willington, which provides traditional thicker crust pizzas, a local feel and lots of bizarre toppings (taco or seafood casino?) and then there is Camilles, located in a soulless shopping plaza within an equally soulless space, but man, their brick oven cranks out soul warming, belly-filling pies. We had the Spinach, which included ricotta, pepperoncini, garlic, basil and mozzarella ($14) on paper-thin charred crust, and a make-your-own combo with tomato, sausage, and mushrooms. If we'd known each pie could easily feed three, we'd have ordered one and the wonderful Caesar salad ($8/large) to share.
Katmandu I think its safe to say any oddly specific outlier ethnic restaurant in a small town will likely be authentic and excellent. I'm not talking Thai or Chinese, which have become ubiquitous and easily cloned, but Uyghur, Laotian or, say, Nepalese, like Katmandu in Storrs. We started with vegetable Mo Mos (dumplings) and cold Papri chat, poppadum-like chips and chickpeas doused in yoghurt and tamarind sauce (both $6.99/ea.). The Chef, who will always get someone's goat (on a menu), had Nepalese style goat curry ($16.99), boasting lots of radish, and I had a South Indian specialty, lamb chettinad ($17.99), hot and spicy lamb slathered in a sauce thick with coconut milk and seasoned with curry leaves and mustard seeds—the clear winner, and something I had never seen on an Indian restaurant menu. We also had excellent paratha bread with mango chutney and walked out stuffed to bursting.
Dog Lane Café At lunchtime that day I had headed out of the Price Chopper back to Dog Lane where I had the half sandwich/soup special ($11.00). I kid you not that my New England clam chowder, served in a mug where it stays steaming hot, is the best I've ever had aside from one at the Queen Anne Thriftway (now defunct) in Seattle in 1990: so many chunks of tender pink clam meat, potatoes, and smoky bacon. My huge smoked salmon BLT paled beside my tiny mug of soup, perhaps because the sandwich had an odd citrus flavor. I'll take my BLTs straight up from hereon out.
Litchfield, CT
The Chef suggested we stop for lunch en route back to New York in Litchfield, CT. I knew Litchfield was toney so I was surprised he managed to find a lunch place within our means. I mean, this is a town in which I walked into a clothing shop to find $500 + tee-shirts. But just a few miles down Rte. 202 is…
Meraki (pronounced Mar-ah-kee) Meraki is a Greek word meaning "to put soul, creativity and love in your work," a word we don't have in English, but one that certainly applies here; this place is damn good. A family-run casual eatery that is also a catering biz, and only open for lunch, Meraki was packed. The chef and I shared swordfish tacos ($9.75/2) that the owner Patty warned would be small. Not so! Ample fish chunks were bundled with pineapple, avocado and radish slaw. And a case of enticing salads beckoned us to try a ginger rice noodle salad with red and yellow pepper slivers ($7.99/pint). "This feels so healthy," the Chef exclaimed, "and so good!!" I added, pushing for us to order a small size of the orzo salad ($3.99). In doing so, I forfeited my chance to order a dessert--too full--and the baked sweets looked as delicious as the savories. The Chef's espresso was one of the best he'd ever had, so I tried to treat him to a pound of beans to bring home, but he wouldn't let me spend the $15 on it, much more than he'd ever spend on coffee at home. But hey, when compared to a $500 top, it seems cheap, indeed.
Ridgefield, CT
We didn't stop here for food but to hike in an amazing place, the Weir Farm, a national historic site that was once home to Julian Alden Weir, an American impressionist painter, and his family of artists. The lovely studio buildings still stand and tours are offered rarely and not between October, 31 and the springtime. An idyllic hiking locale.