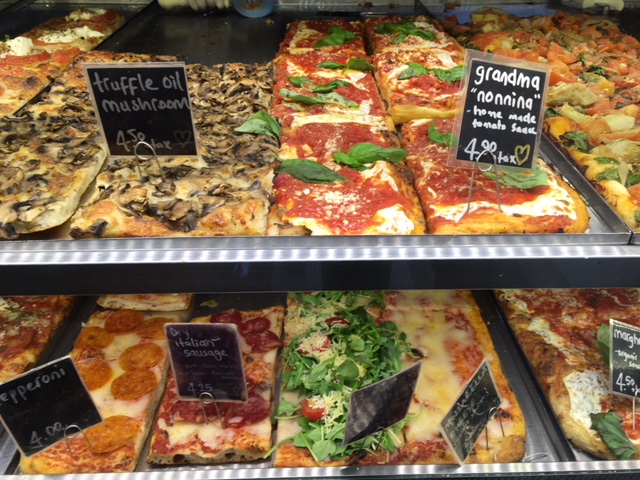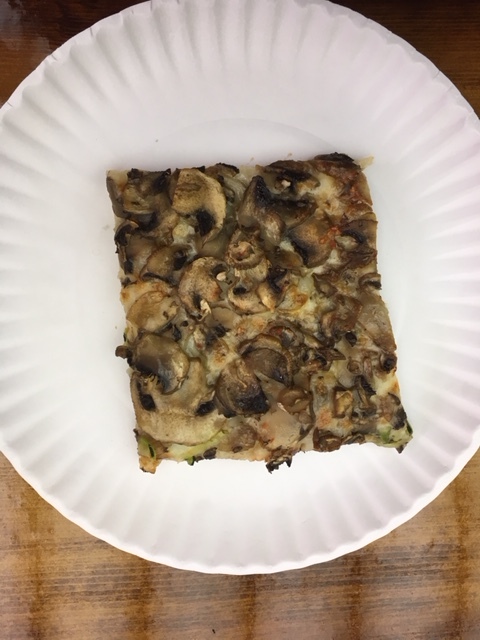 We are still without gas in our apartment and while the Chef still manages to throw down three course Italian meals every day using a two-burner hot plate and induction plate, we still can't have his perfect pizzas. The pizza stone is cold as, well, stone, in the disused oven, and pizza has become something I crave.
Lucky me! I found My Pie Pizzeria Romana on a day when I was heading to try Simit and Smith, the Turkish bagel-ish spot on 72nd between Columbus and Amsterdam. En route, I passed a tiny storefront and breathed in a heady aroma of tomatoes, char, and olive oil. Men were scurrying in and out brandishing tools, so I thought this pizza slice of a restaurant was just opening. Yet, the workers were putting in new seating and tables, and My Pie has been at this location since April. I walked in and the case made me feel like I was in Roma. When I wrote this column for West Side Spirit, I had sung the praises of Roman pizza by Farinella Bakery. Yet, compared to the slices on display—from standards like the Margherita and Grandma Nonnina to inventive potato gorgonzola or zucchini artichoke—the Farinella pizzas seemed pallid and factory made: Without gusto—and I actually did go around the corner to the nearby Farinella to check! And not only that, they average $2 more per slice.
I ordered the buffalo mozzarella, with cheese imported from Salerno Italy, organic Italian tomato sauce, organic virgin Italian olive oil and fresh basil leaves ($4.50). The crust is wondrous, like nothing I've ever tasted; it has the thickness and airiness of a thin slice of focaccia and passes the Chef's rigidity test: when you hold up a corner of the square slice between thumb and forefinger it remains absolutely level and doesn't droop. Slightly melted generous dollops of buffalo mozz melded perfectly with tomato sauce. Biting the generous slabs through fresh basil leaves, I felt like I had entered a time machine, back to summer.
Eventually I re-entered the November day from my summery pizza heaven, which wasn't hard to do since bracing gusts of cold air came in through the open door and the workmen were drilling loudly. And I talked to the manager and read about what makes My Pie pies so different. The secret is both in the ingredients—natural flour imported from Italy, NO sugar and lots of water—and in the process. They say the absence of sugar makes the dough take longer to prepare than others, 48 hours, and that "each pizza's top and bottom parts are cooked at different temperature levels in our unique electric and environmentally friendly oven." (Note: where can we get such an oven since it looks like we'll be without gas for a year?).
Because I had to sit and eat my second slice, truffle oil mushroom ($4.50) to the sound of yet more drilling, the manager gave me a free dessert. I took a plastic cup of Tiramisu and half the mushroom slice home for the Chef, because even one slice of My Pie pizza is filling. The mushroom slab was a veritable collage of thin cremini mushroom slices, not at all greasy. I appreciated the light touch with the truffle oil, which is something I find a bit overpowering in its richness. We went at the dessert with two spoons, marvelling at the light fluffy layers of the Tiramisu. As for the mushroom slice, I confess I did not give it to my husband but ate it for breakfast. Go now, while prices are at their lowest. The manager said they would be raising prices in January, because the minimum wage going up. Now there's a price rise I can get behind!
My Pie Pizzeria Romana
166 West 72nd. (btw Amsterdam and Columbus Aves.)
212-787-7200