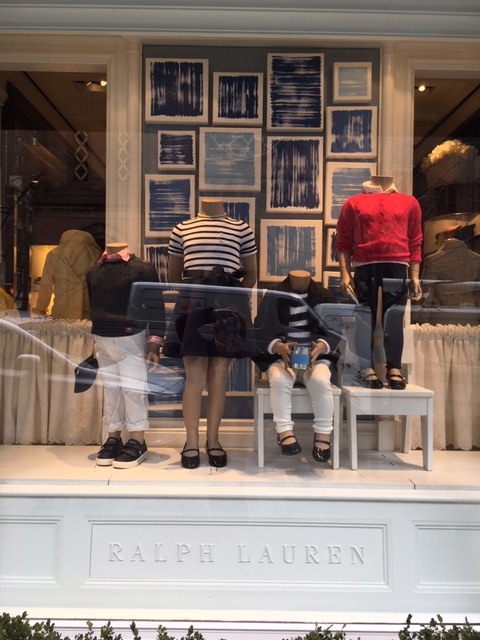 Strolling down Madison Avenue from the 80s down to Central Park South is a charmless walk with little reward, unless you happen to be looking for a $14,000 Jeff Koons charm bracelet at Gagosian, Carrie Bradshaw-esque shoes at Jimmy Choo or mini boating attire for your trés chic toddler at Ralph Lauren. This stretch of Madison Avenue is one of my least favorite areas of the city, but go to Madison I must; the UES is the land of my doctors and also the nearest commercial strip to our city's most wonderful art museums.
Where, oh where, can I indulge a Snack Attack though? My writing partner Lydie and her husband Chris are experienced urban hikers, so I trusted the tip Lydie texted me one afternoon during their Sunday stroll. "Sant Ambroeus on E. 61, sandwiches for $5.50." She sent a beauty shot of a small pressed Panini with a frittata and tomato spilling out of the edges, two dainty cookies, and a foamy coffee drink.
And so, this past Tuesday, after a doctor visit on 86th, I strolled down Madison, past the usual gaggles of private school girls in their tarted up uniforms, mothers with Maserati strollers and ladies who lunch walking dogs better dressed than I. Some sported distinctive coral bags, which I later learned were from Sant Ambroeus. Established in Milan in 1936, the pasticceria and confetteria became a gathering place for Milanese intelligentsia and expanded overseas, first on Madison Avenue. Sant Ambroeus now boasts restaurants in Soho, Southampton, Palm Beach and the West Village. Its coffee bars, inside the Loew's Regency Hotel and in Sotheby's, offer a chance to sample bites of authentic Milanese fare without busting your budget.
Yet, in this glossy sliver of a coffee shop, there are precious few dining counters and even fewer chairs. When I stopped in all were occupied, but I located three sleek high chairs stacked in a corner. I took one and felt more able to enjoy my two palm-sized panini ($5.50/each) than if I had to perch like a crane. First, let me extoll the rolls: puffy ovals with an egg-brushed sheen and a delicate olive oil flavor. Minimal fillings include a selection of cured Italian meats from prosciutto crudo and cotto (cooked) to speck, salami felino and bresaola (air-dried beef)—I had the parma prosciutto and swiss cheese as well as speck and brie, with the roll brushed just lightly with mayonnaise. Other alluring options are the classic egg salad, tuna with marinated artichoke and Lydie's choice, the vegetable and egg frittata. She got hers pressed and warm, so why not ask?
It's hard not to be tempted by the immaculate dolci, too but at $8.00 each—or $1.50 for a financier smaller than a Dunkin donut hole—I did not succumb. After all, the doctor said my triglycerides were high. But please, you go ahead!
Sant Ambroeus Coffee Bar (in the Loew's Regency Hotel)
540 Park Avenue (entrance on 61st St.)
212-339-4051