...and a tour of the last vestiges of Italian "South-Brooklyn"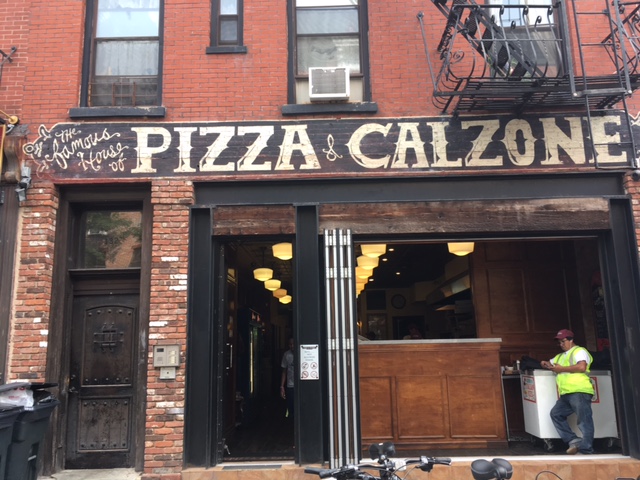 It's as big as a child's toy football. The outside is perfectly golden and blistered. There's no easy way to open it that will not result in oozy messiness on your paper plate. You take your plastic fork and punch the puffy crescent of fried dough, and a big blop of ricotta and mozzarella cheese glurts out (yes, I had to make up a word to describe this). There are pink slices of ham, strewn, like rose petals, within the cheese.
How to eat it?
Simple, when it cools off enough, you hold one end of the crescent like a cone, and you prod the ropes of mozzarella that oozed down the packet's sides back in. You are holding what looks like a cloud in a cone. If you took the advice of the Italian woman sitting up front, you will have sprinkled this thing of beauty with confectioners sugar as if it was a funnel cake at a county fair, instead of what it is:
A deep fried calzone at The House of Pizza and Calzone
Two young men bought this Carroll Gardens restaurant in 1952 when the original owner sold it to pay off a gambling debt. It's been pushing out the grandma slices, the deep-fried calzones that are the signature dish ($6.00), arancini (fried rice balls $4.00 and $1.75/mini) and much more, ever since. Calzones are made to order, so you eat one piping hot from the fryer—and not one that is cold with congealed grease. And what fun to watch: a man rolls out the dough into a disc, places a fist-sized ball of ricotta and mozz on top and then blankets the cheese with a thin slice of ham (except on Fridays! No exceptions! Warns the menu). He then folds it into a crescent, crimping the edges with a fork. The calzone goes into the fryer and you wait ten minutes. It was a muggy fall Sunday, so I went to sit in the garden, passing three young Italian-American women ripping apart their calzones as they ripped into gossip, talk of style, men, and "Is there still cheese on my chin?" When my calzone came out, I wished The Chef were there to share it with me—that's alotta cheese! But I somehow managed to eat it all by myself.
Brooklyn Like It Used to Be
The House of Pizza and Calzone has a tagline, "Brooklyn Like it Used to Be." In Carroll Gardens, a neighborhood once teeming with Italian immigrants who worked the Red Hook waterfront, there are less and less of the Italian vestiges of Brooklyn like it used to be—and as I first knew it when I visited my brother Martin Brandwein and his family on First Place, when our children were small. We delighted in the over-the-top lit-up decorations for every holiday and especially for Halloween. My brother's family has since moved to Windsor Terrace, but my sister-in-law, Susan, told me how fondly she remembers the Italian grandmas leaning on pillows from upper floor windows, sending down baskets to younger, more able family members to bring up prosciutto, bread, and other necessaries, all from the neighborhood, no doubt. Fortunately my sister Carol Brandwein * still lives there, so I often have the chance to shop at or admire these wonderful remaining parts of Italian Brooklyn:
Court Pastry Shop (Est. 1948, but was a bakery since 1920s) – I buy a pound ($7.25) of the dark gingery chocolate cookies my son used to call " 'pice cookies," traditional sesame covered reginas and the light, airy savoiardis.
Caputos Bake Shop (est. 1904) is known more for bread than for pastries, and Serious Eats named its lard bread—peppery bread packed with Prosciutto and cheese—among the best in the city.
D'Amico Coffee Roasters (est. 1948) once spilled out the aroma of roasting coffee beans from a bright red roaster at the front of its shop. A sign of changing times in this neighborhood was when someone called 311 to complain about the smell, which, to me, said "Carroll Gardens" as much as the smell of wood smoke from the many chimneys. Now they roast their coffee in Red Hook but D'Amico's is still a mainstay against the hipster coffee shops. I pack pound bags of the beans for my son to take to college. He says it's "honest" coffee.
G. Esposito & Sons Pork Store (est. 1933) It's a happy evening when we have sausage and broccoli rabe with sausages the Chef has procured from Esposito's pork store, beloved by neighborhood kiddies for the giant plastic pig out front and by cooks for the quality of its Italian sausage. This is a true family business, now run by the grandson of the founder. See his story here.
Ferdinando's Focacceria (est. 1904) Talk about old Italy! You are walking into early 20th century Sicily when you step inside tiny Ferdinando's, just across the street from The House of Pizza & Calzone. Here Sicilian classics have prevailed through a century, including the Chef's favorite, the Vastedda, a gamy calf spleen sandwich topped with ricotta and grated caciocavallo cheese. No spleen for me; I'll take another classic, the Panelle, which consists of fried chick pea fritters on a roll with the same cheese toppings (both are $6.00). Read about this Sicilian gem here.
F. Monteleone Bakery & Café (est. 1929) I have to confess, I have not been inside Monteleone's, which boasts a handsome tile store and tin ceiling, but it was in the news in 1998 when it merged with Brooklyn institution—and bakery featured in Moonstruck—Cammareri Brothers.
Van Westerhout Cittadini Molesi Cultural & Social Club (est. 1963) In the 1950s, after ten thousand Italian immigrants settled in this neighborhood, which was once known as South Brooklyn-Red Hook, there were almost 20 immigrant social clubs, each representing a different village in Italy. This is one of the two remaining clubs, representing immigrants from Mola di Bari. I pass it en route to my sister's, admiring the gazebo and garden, imagining old Italian men playing cards inside, gossiping and telling tales of the old country. For more on its storied history, go here.
The House of Pizza and Calzone
132 Union Street, near Columbia St., Brooklyn
718-624-9107
*Carol Brandwein took all the Carroll Gardens pictures except for the ones of the calzone and House of Pizza and Calzone. Thanks, Sis!