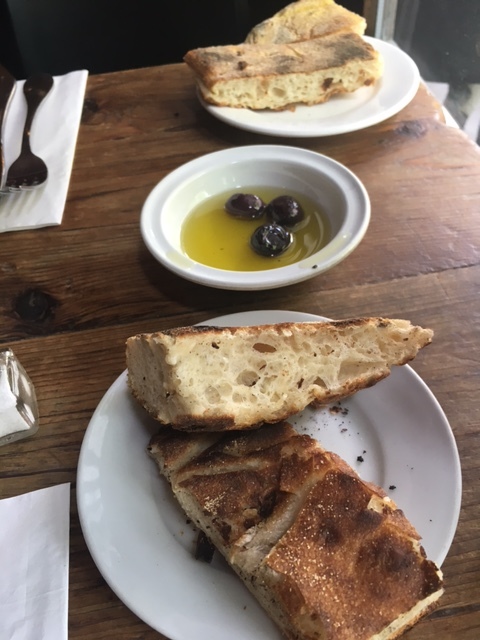 It's a classic cocktail party dilemma. You're nervous and you head right for the bar, but you're also anxious about loading your plate with cocktail bites before the kitchen runs out of food. How do you hold your wine and eat off your plate, with a fork, no less, as you attempt to strike up a conversation?
The Chef always says it would help to be an octopus on these occasions, but failing that I asked my good friend Jeanne Martinet, aka, Miss Mingle, "What's a two-armed bipedal to do?" We were catching up over lunch at Bodrum, a Turkish mezze—and much more—destination on the Upper West Side. Ms. Mingle told me she always heads for the bar, sips her wine while mingling and then begs off to get some food, preferably finger food. One can also reverse the order and eat first, but we both agreed that alcohol loosens the mingling muscles. And all this time I'd been awkwardly trying to balance my plate of food and fork on top of my wine glass!
But back to Bodrum. Turkish restaurants offer such variety that they are perfect settings for meeting friends or hosting parties. With its its wood-fired oven and a menu that includes a range of Mediterranean specialities, Bodrum fills that bill. The carnivores are pleased by Turkish sis kebab ($19.95) or köfte (ground lamb patties served with French fries, $14.95), the pescetarians love the roasted branzino with pistachio relish ($21.95), and the vegetarians enjoy the fresh mucver—zucchini fritters served with crumbled feta and garlicky yogurt sauce ($7.95)—or the artichoke pizza with sun-dried tomatoes and stringy full-flavored and salty kasseri cheese ($14.00).
Before we shared our own artichoke pizza, layered generously with thin artichoke slices, and the small, refreshing shepherd's salad ($8.50), Miss Mingle and I chose a sweet and savory b'stila djej ($7.50). Confectioners sugar dusts three plump triangular pillows of phyllo dough, but you bite in to find a unique, addicting concoction of chopped chicken, almonds, herbs and cinnamon. Truly the most interesting mezze on the menu, which includes favorites like babaganoush, sigara borek, labne and Turkish patlican.
I always want to pick the most interesting mezze on the menu, just as I want to find the most interesting person in the room, when I'm mingling. The first is easy. The second is hard, but easier when you're not awkwardly balancing glasses, plates, forks and snacks!
P.S. In an era when restaurants no longer dole out bread baskets, I LOVE the ample crusty, puffy, chewy slices of Turkish bread at Bodrum that come with a deep bowl of olive oil (and olives!) for dipping, an appetizer in itself!
Bodrum
584 Amsterdam Avenue (btw 88th and 89th Sts.)
212-799-2806