In which I talk about a snack in the middle...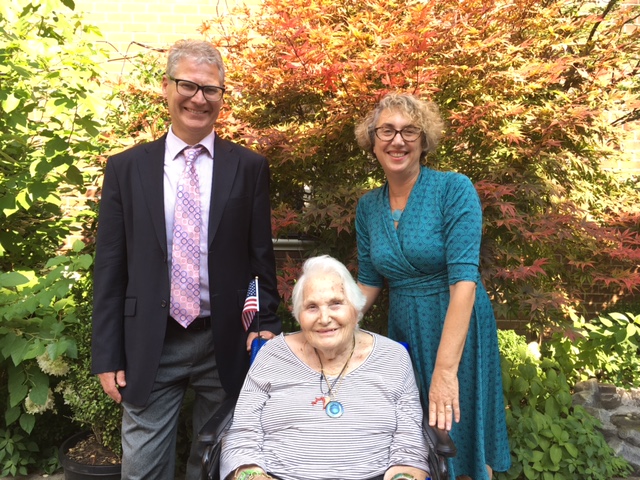 Citizen Chef
My British husband, known in these pages as "The Chef," became an American citizen on August 9th after living in this country for 34 years. He started the process while Barack Obama was president, and he felt conflicting emotions—well, let's say downright distressed—about swearing his allegiance to this country when the current administration threatens to upend our democracy and the values in our constitution at every turn. In contrast, I felt strangely moved and happy thinking how he was doing this in recognition that he will live here forever more, with his American wife and children, that he can back up his lifelong activism by voting. And of course my celebratory thoughts turned to food: where should we eat after the naturalization ceremony? Chinese dumplings? Mexican cemitas? Frankly, the Chef was harshing my buzz, not really buying into the idea of a celebratory meal.
At 1PM in Federal Plaza, a building as grim as my husband's mood, we were separated into applicants and guests. We guests sat waiting in the Spartan room brightened only with a few American flag garlands. Two large screens showed loops of naturalization ceremonies from other years, all set to stirring patriot music. I grew up marching in our high school drill team, wearing a tri-corner hat and white Go Go boots, so these patriotic songs are embedded in my aural memory. I was primed to be emotional, but I was not prepared for the ripples of personal feeling to spread outward and meet the rings of jubilation expressed by 145 applicants from 46 countries and their proud, often very vocal guests.
I thought of what each of these immigrants brings to our city, to our country, and, as a food writer, to our tables. We had just just seen this firsthand the weekend before, on an urban hike through Jackson Heights with our friends Lydie and Chris. Our path took us right through an Ecuadorian parade where each small business had a float and a beauty queen and Ecuadorians in indigenous garb danced to folk music in the street. In Jackson Heights it is entirely possible to pass through Ecuador via India—the sari shops and restaurants lining 37th Avenue—head through the back of a T-mobile store and end up in Tibet! Before the applicants were sworn in, cheers went up as the INS employee called out country names: "Albania," "China" "Dominica," "Norway," "United Kingdom," "Venezuela," and I thought of how much each nation adds to the city's palette and its palate.
After Naturalization? N'Awlins, Naturally!
Speaking of palates, we were hungry; We knew we had to end up in Boerum Hill, for the reason I'll explain below. My sister suggested Chip Shop, as a kind of "Farewell to Blighty" meal, but neither of us wanted a heavy meal of fried fish, chips and mushy peas for lunch. Ever helpful sis texted me the link to the The Gumbo Brothers, and it was the perfect tiny slice of Americana at which to celebrate the Chef's big step. After all, he can still get behind the American ideal of inclusivity even as it is under siege as never before. African slaves brought okra seeds to Louisiana and "Gumbo" is the West African word for okra. So Cajun food enfolds African influences into French, since it is the cuisine of French-speaking people once deported by the British from Acadia, Canada .
Open since December, this is a NOLA restaurant that keeps its menu minimal as its retro gas-station white and red facade: gumbo, po' boys, sides and, coming soon every day, beignets, those puffy pillows of fried dough, dusted with confectioners sugar. There are seafood, chicken & sausage or vegan gumbos ($5.50-$7.00/cup). We wanted to sample both non-"v" gumbos, and have shrimp po' boys, so ordered the lunch special of ½ po' boy and a small bowl of gumbo ($12.00). Both were deep brown with the requisite chopped okra and musky "two hour roux," but the chicken & sausage gumbo was the clear winner, flavors of smoky andouille sausage laced with thyme. The seafood gumbo had chunks of shrimp and blue crab that didn't quite assert themselves. A cup of gumbo is certainly a satisfying snack, especially since it comes with an ice-cream sized scoop of rice in the middle.
Po' boys are packed in Leidenheimer French bread, shipped from NOLA, crispy thin crusted on the outside and soft on the inside. We loved biting into the buttermilk fried shrimp with lettuce, tomato, pickles Duke's mayo. And I loved biting into thick wedges of fried green tomatoes ($4.50), stiffly coated with a Leidenheimer bread crust. The tangy unripe tomatoes exploded with gelid goodness, made better with remoulade sauce (which makes everything better). Like tartar sauce, remoulade has pickles, capers and a squirt of lemon juice, but what makes it Cajun are the many other items—from Louisiana hot sauce to two types of mustard. I don't know what the Gumbo brothers put in theirs, but it was the perfect condiment for Fannie Flagg's favorite.
My Old American Mother
I had so wanted my own high spirits to be validated or at least not quashed by the Chef's unrelenting sour demeanor, and I knew somebody who would be unreservedly enthusiastic about his citizenship: my 89-year-old mother at Cobble Hill Nursing Home. The news of my husband's impending citizenship had broken through the fog of dementia or her now flat, affectless bearing and she had asked me about the ceremony whenever we talked. So I had convinced my husband we should stop by the nursing home and surprise her after our lunch.
My mother loves pomp and circumstance and patriotism—the soprano belting out the Star Spangled Banner before the World Series, the Macy's Day Parade, the spectacle of Fireworks over the Washington Monument. She also dearly loves her son-in-law, but I also realized that in her long life span, it is natural for her to be a proud American. She didn't grow up during the Vietnam and Watergate era but listening to FDR's fireside chats. Her America was on the right side of a war that fought the Nazis while the one Richard is entering is witnessing a surge of neo-Nazism. So when we surprised mom in the nursing home garden, wearing our fancy clothes and offering a miniature American flag (mom likes tchotchkes), my mother's granite Mt. Rushmore profile cracked into a bright smile, her eyes crinkling in delight. "I'm so proud of you," she told the Chef. I was proud, too. With the president threatening flames and fury and nuclear war with Korea (and now the nation seeming on the brink of a new Civil War), to stand with me on American soil adds a political dimension to "till death do us part." My mother's excitement, which the British Chef would usually deem "over the top," worked like a tonic to brighten his mood. I was happy that at a time when I must work hard to anticipate and fulfill my aging mother's needs, she could step back into her mom role and give my husband and me just what we needed.
The Gumbo Brothers
224 Atlantic Avenue (near Court)
917-909-9471