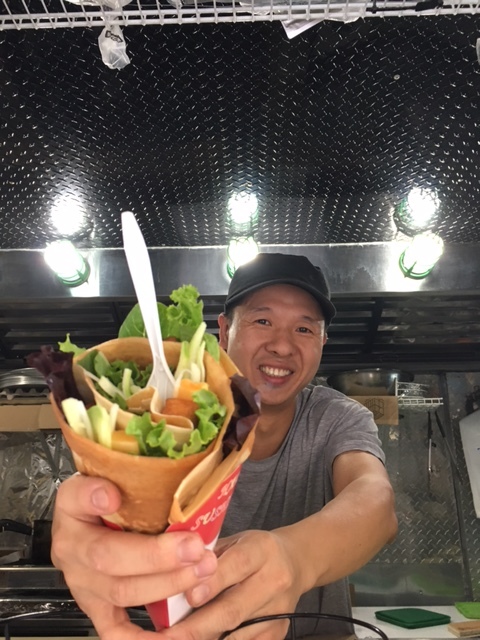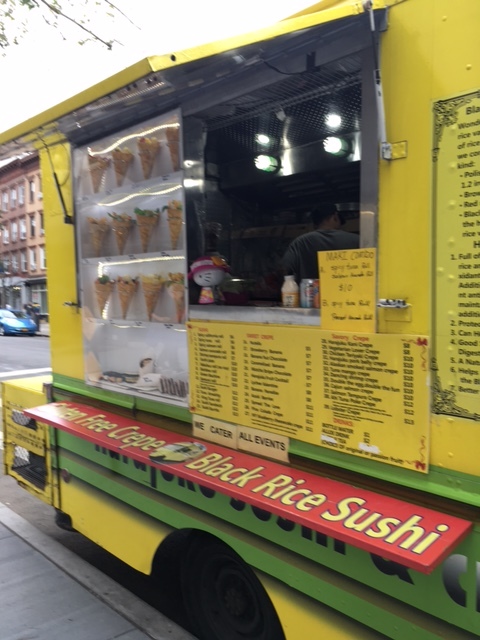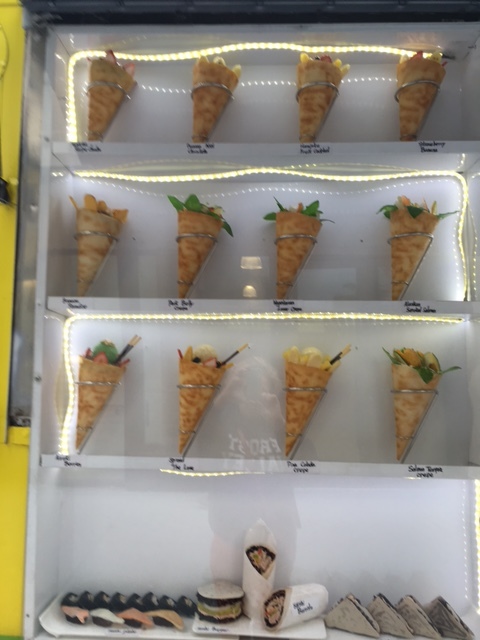 The Japanese are famous for borrowing from cultures and some odd mixing and matching when it comes to food. They have a tradition of eating buckets of KFC on Christmas Eve, college students chow down on comforting rice-filled omelettes topped with ketchup at exam time, and they like their donuts filled with beef and onion curry. Should it be strange, then to see a food truck selling sushi wrapped in crepes?
Of course not! My sis-in-law, Susan, told me about the Harajuku Sushi & Crepe truck that stops at either Congress and Court in Brooklyn or Old Slip and Front in Manhattan. While I was enticed by the idea of tuna mango, pork belly or Alaskan smoked salmon crepes ($10/ea), I had eaten lunch just a few hours before, so I ordered the "vegetarian lover's crepe" ($8.00). How fun to watch as the affable vendor cooked the thin rice flour crepe and then layered green leaf lettuce, rectangles of bamboo shoot, soaked in an orange—slightly funky—sauce, agedashi tofu*, scallions, cucumber and avocado and spoonfulls of black rice on it. He dotted the concoction with a spicy miso sauce, which tasted sweet, more like Hoisin (ask for less sauce than they want to give you). I wondered how he would magically collapse all this bounty to fit into a cone (and how I'd then fit it into my mouth). Yet, he folded it in half and half again, slotted it into a cardboard holder that fit cutely in the spiral metal crepe holder. Voila! Hello Kitty not only meets Astérix but also marries him!
But their love rests on being "forbidden," as a key ingredient of all savory Harajuku sushi and crepe concoctions is black rice, also called "Forbidden rice." This black rice is richer in fiber, protein, iron and antioxidants than either white or brown rice. It also contains the same healthful antioxidants that are in blackberries and blueberries. Finally, why is the rice "forbidden"? Well, during the Ching and Ming dynasties, this black rice was reserved only for the Chinese emperors to ensure their good health—peasants be damned! Thank goodness we can all eat like emperors from a neon yellow food truck.
*Silken firm tofu, cut into rectangles, dusted with potato or cornstarch and deep-fried so it develops a crispy skin. Japan's answer to French Fries!
To find out where the Harajuku Sushi & Crepe truck will park check out their Instagram.